CERTIFIED MANAGEMENT ACCOUNTANT-CMA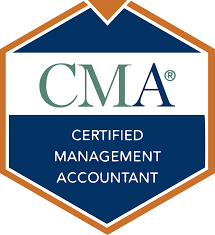 For nearly 50 years, the CMA® (Certified Management
Accountant) certification has been the global benchmark for
management accountants and financial professionals. Why?
Because CMAs can explain the "why" behind numbers, not
just the "what." and that can give you greater credibility,
higher earning potential, and ultimately a seat at the leadership
table.
Why Pathfinders?
Pathfinders embrace a new vision of learning mainly depends on the combination of
academic knowledge and the market competencies, which presented through our
professional instructors who considered the elite of experts in the field of treasury &
finance.
Why CMA?

Work at Large
Corporations
CMAs are able to offer
specialized advice and
expertise in the areas of
management and cost
accounting, which are
invaluable to organizations
with large, complex
operations.
Credibility
CMAs fill the consultant role
perfectly and thereby
distinguish themselves as an
important facet of company
operations.
Rapid Career
Advancement
CMA is a benchmark of
expertise that allows an
individual the opportunity to
get to the next level or
specialize in a specific area.
More Money
Globally, accountants with this
certification have a 62%
higher average salary. 
Global
Opportunities
CMA certification is recognized
and valued the world over, and
you can easily apply for a job in
the Western, European, and
Middle Eastern countries, where
the salary scales are much
Part 1: Financial Planning, Performance,
and Analytics
15%  External Financial Reporting Decisions
20% Planning, Budgeting, and Forecasting
20% Performance Management
15% Cost Management
15% Internal Controls
15% Technology and Analytics
Part 2: Strategic Financial Management
20% Financial Statement Analysis
20% Corporate Finance
25% Decision Analysis
10% Risk Management
10% Investment Decisions
15% Professional Ethics
Course Details :
 

Part 1 

Part 2

Materials 

EBook




Handouts

EBook




Handouts

Course Duration

100 H

60 H

Training Place

Within Pathfinders Network

Within Pathfinders Network

Re-Attendance

Free

Free

Attendance Certificate

Included

Included